Easier Navigation – Matrix X includes a clean new header and navigation bar with features right where you'd expect them.  A new notifications icon alerts you to important updates, and a new menu under the user's name provides quick access to personal settings, account information, and help.
Concierge Improvements – Alerts of new Concierge matches have been moved to the new notifications center for quick and easy access.  Map and Results tabs have been added to Concierge approvals.  Switch between map view and results view just like you would with regular search results.
Great Looking Emails – Conveying a professional image is key, so we updated Matrix emails with a clean, modern design.
New Contacts Module – Matrix X includes a new Contacts module using best-practice webpage design while maintaining a familiar workflow, so there's no need for retraining.  Tabs and widgets provide better readability and accessibility.
New Map Functionality – The map screen now utilizes the full width of your browser.  Map and Results tabs have been added to Concierge Approvals.  We improved the Map Toolbar with easier icons and tooltips.
New Quick CMA – Matrix X includes a new Quick CMA with easier to read icons, font, glanceability, and more.
Coming Soon:  The full CMA report pages are being redesigned with a clean, modern and consistent look too
AND MORE!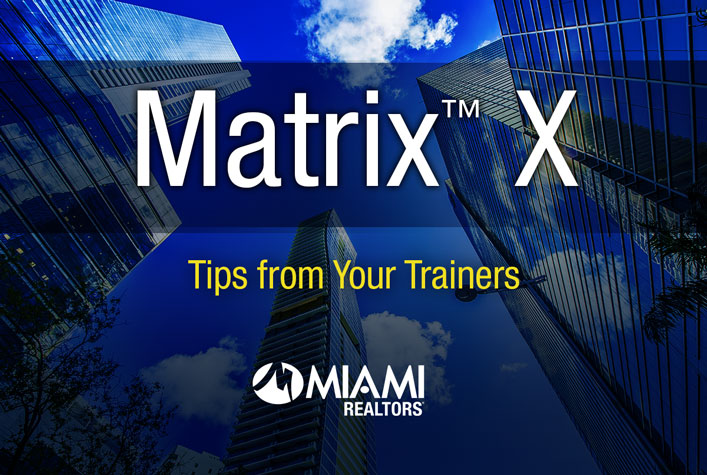 Matrix Integrated Services
Instructor: Connie Nieto Webinar – Presented in Spanish In this class, you will learn: Set-up Market Watch Us the Contact...
[ecs-list-events]
(888) 825-5472
Monday thru Friday 8:30am to 8:30pm
Saturday-Sunday 8:30am-3:00pm
MLS En Español
(305) 468-7071
Go to MiamiRealtors.com & click on the MIAMI Gateway
or CLICK HERE
Log in using MLS ID and password
Click on Matrix button
Everything Tech for Residential and Commercial from MLS and Tax to Social Media, Customer Engagement, Stats and MORE......