Miami, FL (PRWEB)September 25, 2017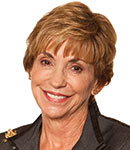 MIAMI Association of REALTORS® (MIAMI) member Matey Veissi was awarded the 2017 Realtor of the Year award by Florida Realtors® for her lifetime contributions in enhancing and promoting the Realtor profession. Veissi received the prestigious honor at Florida Realtors® recent Convention & Trade Expo at Rosen Shingle Creek in Orlando.
"I am deeply humbled by this amazing honor," said Veissi, who is broker and co-owner of Veissi Associates in Miami. "I'd like to thank the MIAMI Association of REALTORS® for making this accomplishment possible. I began my volunteer service with MIAMI and the incredible experience led me to contribute for real estate organizations at district, regional, state and national levels."
Realtor of the Year is Florida Realtors® most significant award, an honor that has been presented annually for more than 60 years. Florida Realtors® chose Veissi because of her nearly four decades of service in promoting the profession and advancing the real estate industry.
Veissi — who served as 2016 Florida Realtors® President —has chaired almost every MIAMI committee. She was named MIAMI's Realtor of the Year in 1996. Veissi was a founding member of MIAMI's Honor Society. MIAMI awarded Veissi its Lifetime Achievement Award in 2005.
At the state level, Veissi has served as president, vice president, secretary, treasurer, director and district vice president. Veissi also served eight years on the Florida Real Estate Commission, including as FREC chair in 2003.
At the national level, Veissi served as chair of the National Association of Realtors® (NAR) Global Business and Alliances Committee. She also served as NAR's presidential liaison to the real estate associations of Jamaica and The Bahamas.
Veissi is an associate professor at Florida International University's College of Finance and a member of FIU's Real Estate Institute Advisory Board and Women's Mentoring Program. She is a member of the Women's Council of Realtors® (WCR) and the Master Brokers Forum.
Veissi has volunteered for Downtown Miami's Camillus House for the Homeless, Miami's Habitat for Humanity, local youth athletics, the YMCA and March of Dimes.
Veissi co-owns Veissi Associates with her husband, Maurice "Moe" Veissi. Moe Veissi — a Realtor for more than 40 years — served as NAR's President in 2012. Like his wife, Moe Veissi served as Florida Realtors® president (2002) and was honored as Realtor of the Year by Florida Realtors® (2003).
About the MIAMI Association of REALTORS®
The MIAMI Association of REALTORS® was chartered by the National Association of Realtors in 1920 and is celebrating 97 years of service to Realtors, the buying and selling public, and the communities in South Florida. Comprised of six organizations, the Residential Association, the Realtors Commercial Alliance, the Broward Council, the Jupiter Tequesta Hobe Sound (JTHS-MIAMI) Council, the Young Professionals Network (YPN) Council and the award-winning International Council, it represents 45,000 real estate professionals in all aspects of real estate sales, marketing, and brokerage. It is the largest local Realtor association in the U.S., and has official partnerships with 164 international organizations worldwide. MIAMI's official website is http://www.MiamiRealtors.com
###