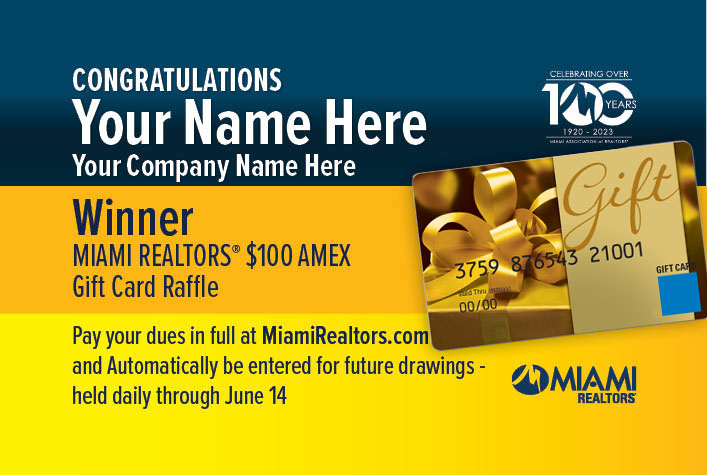 Testimonial: Last Year's Grand Prize Winner
"I want to thank everyone involved in the giveaway. The camera I won is so amazing! I have been playing with it this weekend getting familiar with all the features. There is no doubt this will be an amazing tool for our industry. I want to thank the Miami Board of Realtors for always providing excellent support. The Miami Board of Realtors has always been able to assist me when ever I have had any questions or concerns. Everyone on their staff has always been kind and courteous every time I call. Thank You also to Beachfront Realty for all their support as well. I can not believe I WON !!! The camera is truly amazing…"
Thank You Again,
Erik Bosch
2020 Grand Prize Winner
BeachFront Realty
More Days to WIN! Celebrating Over 100 Years!
May 2
Bill Ioannou
Adelphia Realty, LLC
May 3


Luis Martino


Cityside Realty Group
May 4


Iryna Kim




London Foster Realty

May 5


Tanequa Jones




Brown Capital Realty, Inc.

May 6
Nordis Forcade-Martin


Keller Williams Capital Realty

May 7
Earl Mergelsberg


Beachfront Realty

May 8
Rosa Galliani


Canvas Real Estate

May 9
Israel Amar


Jonathan Solomon Realty

May 10
Maria Barrera


BB Realty Group

May 11
Ernesto Perez

Capital Intl Realty, LLC.

May 12
Dalia Valdes


GAD Real Estate, Inc.

May 13
Danielle Elfassy


One Sotheby's International Realty

May 14
Brian Kamilar


Condo.com

May 15
Jose Carlos Torres Hernandez


Prime Realty of South Florida

May 16
Alejandrina Bovard


The Keyes Company

May 17
Charlotte Arnold


Berkshire Hathaway Florida Realty

May 18
Valerie Gillespie


LM Realty Group

May 19


Yovani Garcia




Cervera Real Estate

May 20


Elizabeth Sinyavsky


Miami VIP Properties
May 21


Rejane Gomes De Paula




Fortune International Realty

May 22


Alma Prada


Praxa Realty
May 23
Beatriz Bedoya
United Real Estate Miami
May 24
Shane Nolan
Keller Williams Miami Beach Realty
May 25
Franklin Adrianza
Agent Trust Realty
May 26
Carolina Preciado
Potential Property Group
May 27
Christopher Stensby
The Souviron Group
May 28
Sergio Betancourt
Rivas Realty
May 29
Paola Poletti
Home Miami, LLC.
May 30
Christine Jaar
Florida Capital Realty
May 31
Alex Gualda
Keller Williams Realty International Lifestyles
June 1
Michael Light
Douglas Elliman
June 2
Amelia Lopez
Coldwell Banker Realty
June 3
Randen Thomas
R.A Thomas Realty
June 4
Susana Lay
For Sale & Rent Realty
June 5
Casandra Guillen
Beachfront Realty
June 6
Hailey Barber
Redfin Corporation
June 7
Carmen More
Cervera Real Estate
June 8
Lucia Guzman
Avanti Way Realty
June 9
Aura Romero
Global Luxury Realty
More Days to WIN! Celebrating Over 100 Years!
June 10
Diane Diaz
Miami New Realty
June 11
Wilfrido Peinado
Keller Williams Elite Properties
June 12
Carol Vergel
Compass Florida
June 13


Erik Don


New Uptown Int'l Realty
June 14


Anabelle Taub


Beachfront Realty
June 15


Franklin Diaz


United Realty Group
June 16


Evan Buck


Centurion Real Estate Advisors
June 17


Oneida Marti


La Rosa Realty
June 18


Doris Restrepo


Monteiro International Realty
June 19


Nicol Velez


EXP Realty
June 20


Shaneakqua Small


Berkshire Hathaway FL Realty
June 21


Hilary Hess


United Realty Group
June 22


Eric Nur


First Brickell, LLC
June 23


Gary Wong


Avanti Way Realty
June 24


Johana Ramiez Bustamante


Xcellence Realty
June 25


Brigitta Malics


EXP Realty
June 26


Marc Alpert


Brickell Investment Realty
June 27


Jacqueline Gutt-Machado


Great Properties International
June 28


Magdalena Kopczynska


Weichert Capella Estates
June 29


Sergio Estrada


Vertical Int'l Real Estate
June 30


Luis Mota


Compass Florida
July 1


Maria Batista


Euflorida Realty
July 2


Lenna Nieto


Select International Realty
July 3


Christian Cozier


New Miami Realty
July 4


Burns Chumiso


Villa Realty
July 5


Angela Reyes


Jamestown Realty & Investments
July 6


Roberto Tua


The Keyes Company