MIAMI REALTORS Cuts the Red Tape for Housing Affordability
Permitted the use of nonconforming lots
Created an expedited review process
Enabled eco-friendly container homes for single lots and Accessory Dwelling Units
Reduce overall housing costs
The South Miami Shipping Container Home is SOLD!
MIAMI REALTORS® sold its new single family affordable housing opportunity built from a repurposed cargo shipping container in December 2021. The South Miami home was sold to an eligible homebuyer (see definition below) for an affordable price — $160,000.
The planning, development and sale of this home is the culmination of years of brainstorming innovative and creative affordable housing solutions.
MIAMI REALTORS® developed this prototype in partnership with the National Association of Realtors (NAR), Miami-Dade County and the City of South Miami to not only explore the challenges in developing this new style of housing, but also to keep homeownership affordable in areas of opportunity.
Located at 6180 SW 63 Terrace, South Miami, FL 33143, the home was developed by MIAMI REALTORS® and sold to an eligible homebuyer for an affordable price — $160,000.
Miami-Dade County Approved Lenders
These lenders are certified to work with Miami-Dade County's housing assistance programs and are familiar with the deed and restrictive covenant terms of this project.  Buyers are not limited to these lenders.  Please make sure all lenders have been provided the sample deed and restrictive covenant before obtaining a pre-approval letter.
When Miami was ranked one of the least affordable housing markets in 2015, the leaders of MIAMI Realtors came together...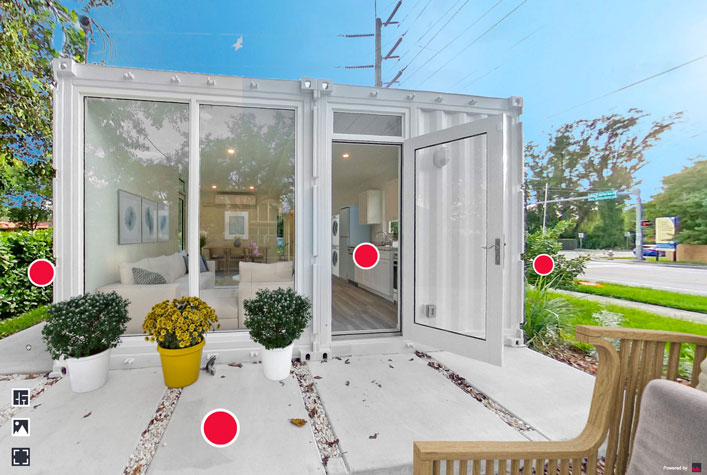 Take a Virtual Tour of the South Miami Container Home...
6180 SW 63 Terrace | South Miami, FL 33143
1 Bedroom / 1 Bath
Square Feet: 480 Sq. Ft.
Lot Size: 3,106 Sq. Ft.
Sales Price: $160,000 (with Deed Restrictions*)
Buyer must meet income qualifications at or below 80% of area median income (AMI):
| | |
| --- | --- |
| Family Size | Max. Gross Income – 80% of AMI |
| 1 | $50,650 |
| 2 | $57,850 |
| 3 | $65,100 |
| 4 | $72,300 |
Property is subject to deed restrictions and a restrictive covenant to remain affordable for minimum 20 years. See draft warranty deed and restrictive covenant contained in application for details.