MIAMI REALTORS® Launches Landmark FIABCI Associate Membership for all MIAMI members – FREE
MIAMI — The MIAMI Association of REALTORS® (MIAMI) and FIABCI, The International Real Estate Federation, have partnered to bring FIABCI Associate Membership to all 60,000 MIAMI Members. This landmark agreement unlocks significant business, networking, and educational opportunities for MIAMI members and FIABCI, the world's largest real estate business networking organization with 45 chapters in 70+ countries.   
"It's not a coincidence that the MIAMI Association of REALTORS® with Miami being a truly international city is the first to sign such a corporation agreement with us," FIABCI Treasurer Martin Von Hauff said. "I believe this town and all of you are prime examples of Realtors that believe and encompass international real estate and it would be a true pleasure to do business."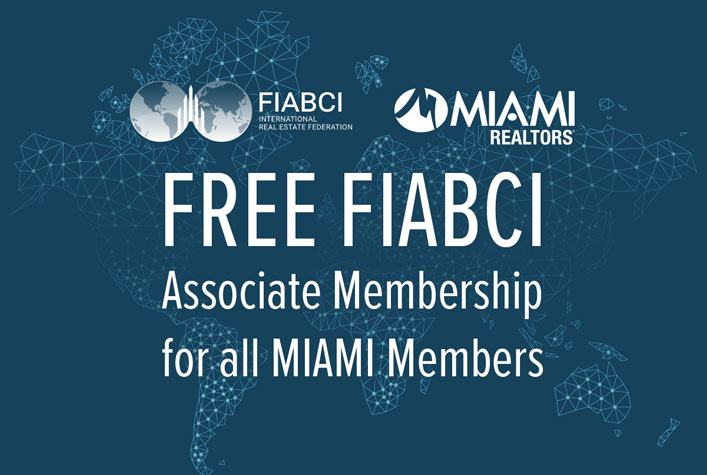 MIAMI REALTORS® Now Have Access to FIABCI's World Events, Education and More 
As part of this first-ever collaboration for FIABCI, MIAMI members will enjoy several benefits, including:  
The ability to register for FIABCI events, whether they are national, regional, or international, at preferential rates usually reserved for Regular Members of FIABCI. 

 

Access to register for FIABCI Education programs, enhancing their professional knowledge and connections. 

 

The opportunity to convert to a Regular Member at a preferential rate, opening the doors to even more exclusive benefits within FIABCI. 

 
"MIAMI REALTORS was proud to be the first local Realtor Association to ever host the prestigious FIABCI World Real Estate Congress, held June 5-9, 2023, in Miami," said MIAMI CEO Teresa King Kinney.  "Over 100 Miami members were able to participate in this world class event and now are officially Associate Members of FIABCI and can promote their membership to their customers, clients and network." 
MIAMI members can add other services such as appearing in the FIABCI Directory and the database of the official website, and accessing the FIABCI App, connecting to FIABCI full members are also available to Associate Members who convert to full membership (Regular Members). This will allow them to gain access to the entire FIABCI membership value proposition and connections. 
Access more info: https://bit.ly/FIABCIAgreement 
About FIABCI, the International Real Estate Federation 
FIABCI, a business networking organization with a rich history spanning over 70 years, has been at the forefront of providing access and opportunities for real estate professionals to connect, gain valuable knowledge, and engage in international real estate business. FIABCI is represented in more than 70 countries through 45 national and multinational chapters. https://fiabci.org/ 
About the MIAMI Association of Realtors®  
The MIAMI Association of Realtors (MIAMI) was chartered by the National Association of Realtors in 1920 and is celebrating 103 years of service to Realtors, the buying and selling public, and the communities in South Florida. Comprised of six organizations: MIAMI RESIDENTIAL, MIAMI COMMERCIAL; BROWARD-MIAMI, a division of MIAMI Realtors; JTHS-MIAMI, a division of MIAMI Realtors in the Jupiter-Tequesta-Hobe Sound area; MIAMI YPN, our Young Professionals Network Council; and the award-winning MIAMI Global Council. MIAMI REALTORS represents nearly 60,000 total real estate professionals in all aspects of real estate sales, marketing, and brokerage. It is the largest local Realtor association in the U.S. and has official partnerships with 257 international organizations worldwide. MIAMI's official website is www.MiamiRealtors.com 
###