MIAMI — The Jupiter-Tequesta-Hobe Sound Council of the MIAMI Association Realtors (JTHS-MIAMI) recently donated more than $20,000 worth of food and personal items to El Sol, Jupiter's Neighborhood Resource Center that provides essential services primarily to day laborers, their children, and families.
El Sol's Food and Nutrition program, now in its 17th year, provides food to the neediest families in the community. About 8.9% of Palm Beach County residents experienced a lack of regular access to affordable and nutritious food in 2021, according to data from Feeding America.
"El Sol is one of the crown jewels of Jupiter," 2022 JTHS-MIAMI President Brad Westover said. "It is wonderful to be a part of JTHS-MIAMI where serving others is what we do best."
JTHS-MIAMI Leader Coordinated with his Local Church to Help with Donation
Westover – an Avanti Way Realtor and a 2023 JTHS-MIAMI board member – coordinated with his church, The Church of Jesus Christ of Latter-Day Saints, to help with this amazing donation.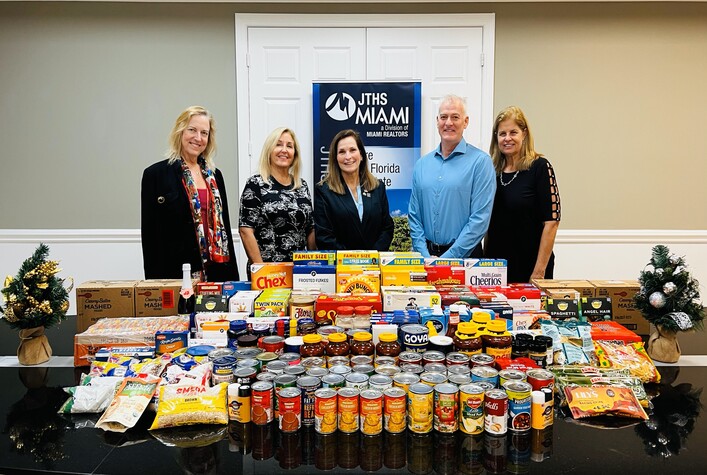 The Church of Jesus Christ of Latter-Day Saints has farms all over the world to feed those in need. The food was delivered to the Bishop's Storehouse in Davie. JTHS-MIAMI leaders then assisted with the delivery to El Sol as well as El Sol volunteers.
Food donation is one of many local initiatives JTHS-MIAMI has conducted throughout the years. JTHS-MIAMI also donated to the Palm Beach County Food Bank earlier this year.
For more information on the Palm Beach County Food Bank, visit https://www.pbcfoodbank.org/
For more information on El Sol, visit https://friendsofelsol.org/
About the Jupiter-Tequesta-Hobe Sound (JTHS-MIAMI) Realtors
The Jupiter-Tequesta-Hobe Sound Council of MIAMI Association of Realtors (JTHS-MIAMI) seeks to serve, unify and lead residential members in Palm Beach and Martin counties. With more than 2,500 members in Palm Beach and Martin Counties, JTHS-MIAMI provides members with a legislative voice, education opportunities, a code of ethics, networking opportunities and more. JTHS merged with the MIAMI Association of Realtors in September 2015. The JTHS-MIAMI official website is http://www.jthsmiami.com
About the MIAMI Association of Realtors®
The MIAMI Association of Realtors (MIAMI) was chartered by the National Association of Realtors in 1920 and is celebrating 103 years of service to Realtors, the buying and selling public, and the communities in South Florida. Comprised of six organizations: MIAMI RESIDENTIAL, MIAMI COMMERCIAL; BROWARD-MIAMI, a division of MIAMI Realtors; JTHS-MIAMI, a division of MIAMI Realtors in the Jupiter-Tequesta-Hobe Sound area; MIAMI YPN, our Young Professionals Network Council; and the award-winning MIAMI Global Council. MIAMI REALTORS represents nearly 60,000 total real estate professionals in all aspects of real estate sales, marketing, and brokerage. It is the largest local Realtor association in the U.S. and has official partnerships with 256 international organizations worldwide. MIAMI's official website is www.MiamiRealtors.com
###