Commercial Certificate Program
Learn and earn your way to the MIAMI Commercial Certificate by attending core curriculum and electives. Earn points today by attending monthly networking events, leasing classes and commercial workshops. You are only required to earn 30 points in a 12-month period.
The process is simple, look for the red points symbol on promotions and keep track of your points throughout the year. At the end of the year or when you complete your 30 points, just fax or email the sheet to Paul Cauchi @ 305-468-7061 or paul@miamire.com.
Look for the diploma seal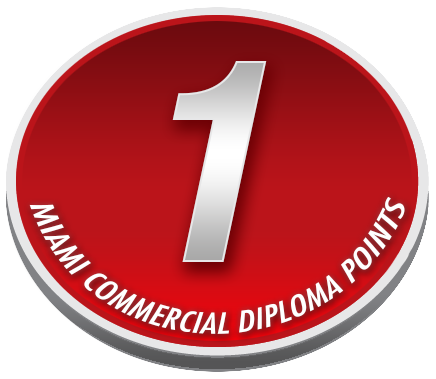 to learn how many points each class or event offers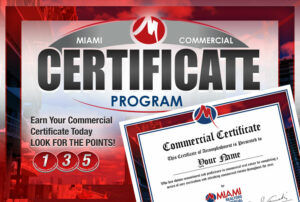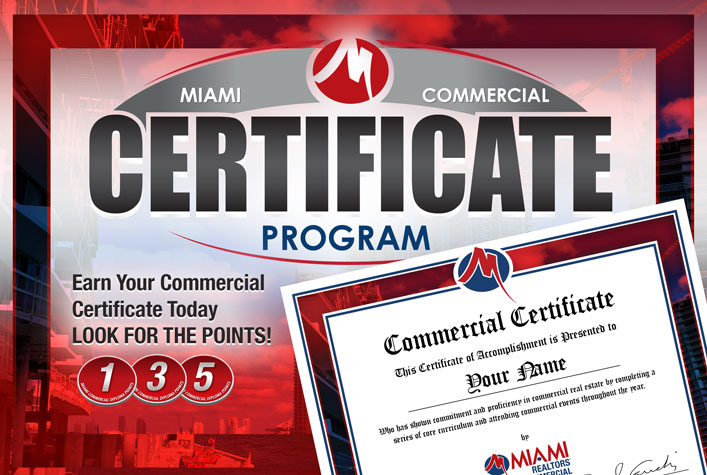 Required Curriculum & Major Events

Points
March 3
Investment Seminar, Part 1, TVM, RealDax
3
April 7
Investment Seminar, Part 2, TVM, RPR Valuate
3
May 12
Investment Seminar, Part 3, TVM Recap, OM CREOP
3
October 1
Commercial Conference
6
• Two Major Events are Required
Monthly Education & Seminars
Points
February 25
IREM Joint Event, Property Management
3
March 18
Commercial Leases
3
March 24
Zoning 101
3
March 31
Bookmark Series with Miami-Dade County
3
Bonus: Attend 4 and earn 15 points
Two Times a Month!
The first Thursday of each month in (H) Headquarters
The fourth Thursday of every month in (W) West Broward
9am until 10am
Each Marketplace is worth 1 point
Attend 4 and earn 5 points
(Please check the calendar to confirm dates and locations)
NEW If you have earned the Certificate in the past 5 years and would like to earn it again without having to take the requirements, just earn 20 points in a calendar year.
NEW earn 3 points by taking any of our FREE training classes including: Commercial MLS, Commercial IMAPP, Commercial RPR and Commercial Investment Analysis. Look for the 3 point seal!
• Two Major Events are Required

* Education with an asterisk are required curriculum, earn this Certificate you must either attend all three of the Tom Dixon Series (Intro, Intermediate and Advanced) or both a Commercial Lease and Commercial Contracts class.
Required curriculum is valid for two calendar years.
A total of 30 points is required and must be completed within a 12-month period (excluding required curriculum which is valid for two calendar years)
Look for the Certificate seal to determine how many points a class is.
Must be an MIAMI Commercial member to qualify.