Commercial Certificate Program
Earn points today by attending contracts classes, conferences, monthly networking opportunities or commercial workshops and training. You just need to earn 30 points in a 12-month period.
The process is simple, look for the red points symbol on promotions and keep track of your points throughout the year.
Required Curriculum & Major Events
Monthly Education & Seminars
Points
Feb. 7
(W) Understanding Busines Opportunities
5
Feb. 15
(H) Understanding Business Opportunities
5
Feb. 28
(H) Understanding 1031 Exchanges – 2 CE Credits
2
Mar. 2
(O) Coral Gables Commercial Spotlight
3
Apr. 5
(H) Real Estate Negotiations: Getting to Yes
3
Bonus: Attend 4 and earn 15 points
Two Times a Month!
The first Thursday of each month is at (H) Headquarters and the third Thursday of every month in Broward. Each Marketplace is worth 1 point; Attend 4 and earn 5 points. (Please check the calendar to confirm dates and locations as dates are subject to change and some will be held virtually).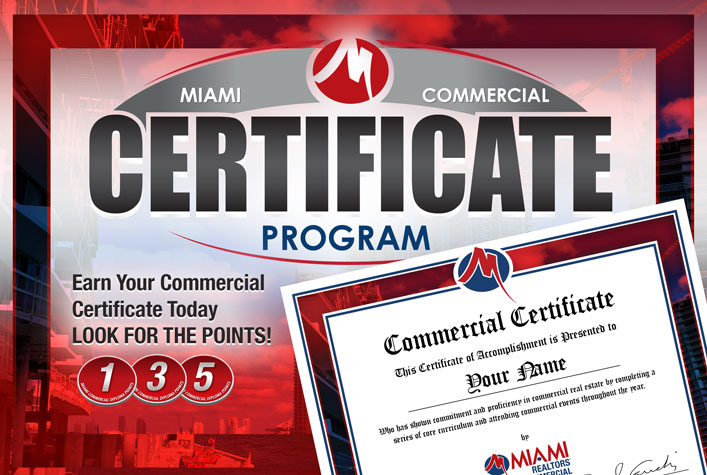 NEW
If you have earned the Certificate in the past 5 years and would like to earn it again without having to take the requirements, just earn 20 points in a calendar year.
Earn The Certificate Quicker!
Earn 3 points at any of the FREE training classes including: Commercial MLS, Commercial IMAPP, Commercial RPR & Commercial Investment Analysis. Look for the 3-point seal or email commercial@miamire.com to see if it qualifies! Look for the 3 point seal!
Hot Tip
Visit our online calendar at miamirealtors.com/events/month/ and key word "Commercial" to sort all of the eligible classes.
Two Major Events & Required Curriculum
To earn this Certificate you must either attend all four of the Commercial RE Series), or a Commercial Lease and Commercial Contracts class. Required curriculum is valid for two calendar years.
Required curriculum is valid for two calendar years.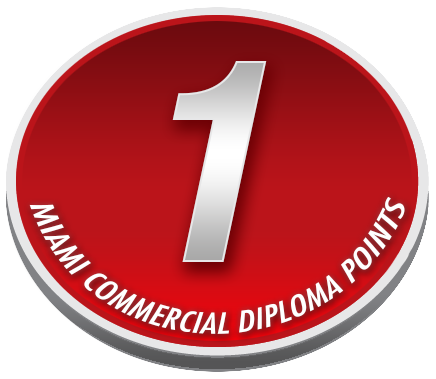 A total of 30 points is required and must be completed within a 12-month period (excluding required curriculum which is valid for two calendar years)
Look for Certificate seal to determine points per class. Must be a Miami Commercial member to qualify.