MIAMI — The Jupiter-Tequesta-Hobe Sound Council of the MIAMI Association Realtors (JTHS-MIAMI) Young Professionals Network recently raised $11,000 at its 11th Annual Battle of the Bartenders Charity Event to benefit the Warriors Choice Foundation, a Jupiter-based non-profit that provides highly trained service dogs and quality healthcare for local combat veterans.
"JTHS-MIAMI Association of Realtors provided us with the essential resources and an incredible platform to give back to our community," said JTHS-MIAMI YPN Chair Shakearah Rolle, a Realtor with Berkshire Hathaway HomeServices Florida Realty. "We stand together as a testament to the incredible things that can happen when a passionate and united community comes together. I am passionately committed to continuing this journey with all of you, and I can't wait to see what the future holds."
Warriors Choice Foundation Making a Difference in South Florida
Warriors Choice Foundation has provided local veterans suffering from PTSD, mental illness and/or catastrophic injuries with more than 40 service dogs, 25 retreats, $1.5 Million in Direct Aid, plus ongoing events and holistic curriculums.
Warriors Choice Foundation will use the event's proceeds to assist local combat veterans with physical and emotional independence; create healing workshops and retreats focused on healing the mind, body and spirit and more.
The JTHS-MIAMI YPN Battel of the Bartenders event includes a raffle and online auction items. Event sponsors served as bartenders raising tips for the Warriors Choice Foundation on Aug. 24 at Stormhouse Brewing.
Event sponsors included Katie Newitt with A-1 Moving & Storage; Greg Cohen with Cohen Norris Wolmer Ray Telepman Berkowitz & Cohen – Attorneys at Law; Mike Weiner with MPACT Windows & Doors; and Diana Keller & Robin Colvin with Platinum Title Insurers, LLC.
The event is one of many volunteer events JTHS-MIAMI has conducted this year. Other initiatives include donating $20,000+ worth of food to needy local families at El Sol, Jupiter's Neighborhood Resource Center; Collecting and Delivering a record 2,000 books to local children to boost literacy and help students stay on grade level during the summer; installing Jupiter letters in front of Roger Dean Chevrolet Stadium; etc.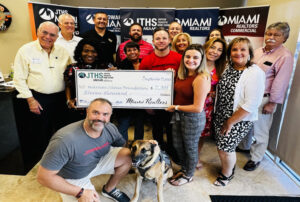 About the MIAMI Association of Realtors®
The MIAMI Association of Realtors (MIAMI) was chartered by the National Association of Realtors in 1920 and is celebrating 103 years of service to Realtors, the buying and selling public, and the communities in South Florida. Comprised of six organizations: MIAMI RESIDENTIAL, MIAMI COMMERCIAL; BROWARD-MIAMI, a division of MIAMI Realtors; JTHS-MIAMI, a division of MIAMI Realtors in the Jupiter-Tequesta-Hobe Sound area; MIAMI YPN, our Young Professionals Network Council; and the award-winning MIAMI Global Council. MIAMI REALTORS represents nearly 60,000 total real estate professionals in all aspects of real estate sales, marketing, and brokerage. It is the largest local Realtor association in the U.S. and has official partnerships with 256 international organizations worldwide. MIAMI's official website is www.MiamiRealtors.com
###