By Gay Cororaton, MIAMI REALTORS® Chief Economist
South Florida homebuyers are starting to regain their negotiating power with more listings on the market compared to the frenzied period during 2020 -2021 when mortgage rates plummeted to a historic 3% level.  During this period, price discounts essentially evaporated with homes selling fast. Buyers obtaining a mortgage lost to cash buyers and went to the extreme of even skipping inspections.
With supply catching up with demand as mortgage rates rise, buyers are able to have more time to compare properties, obtain a good mortgage, and not skip on necessary due diligence.
Median sales price to list price ratio trending down pre-pandemic level of about 95%
During December 2022, the median closing price to listing price was 95.7% (4.3% discount) on homes closed in Miami-Dade County. That fraction rose to 100% during February-May 2022 before mortgage rates climbed to 5% as the Federal Reserve started hiking the federal funds rate to control the rate of inflation back to 2%. Prior to the pandemic in December 2019, the median price to list ratio was 94.5% (5.5% discount).
In Broward County, the median closing to list price was 95.9% (4.1% discount), and 94.4% in Palm Beach County and Martin County (5.6% discount).  Prior to the pandemic, the price discount was about 5% in these counties.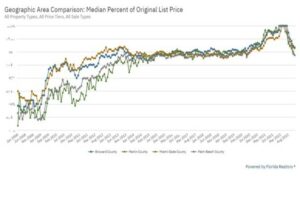 Breaking down the price discount by price tier in the Miami-Dade County, the median price to listing ratio has fallen more for homes that sold at $1 million or more, with a median discount of 7%. For homes that sold at $300,000 to $399,000 during December, the median price discount was 4.1%
Expect higher price discount for homes $1M or more
Moving forward, I expect the typical price discount to hover at the 5% range for homes priced at less than $1 million.   Inventory is building up, but it still remains tight, at below 6 months. In Miami-Dade, months' supply is at 4.1 months.
However, the price discount could further increase to about 10% for homes priced at $1 million or more, due to the buildup in inventory to 8 to 9 nine months' supply.
What this means for REALTORS®:  There's more leeway for buyers to negotiate a price discount to make a home more affordable. However, as always, the price discount will vary depending on the home's characteristics and neighborhood amenities.