By Gay Cororaton, MIAMI REALTORS® Chief Economist
With inflation on the wane per the latest CPI report, I expect the 30-year fixed mortgage rates to continue to decline consistently by the second half of 2023 and hit 5.5% by year end. On average, the 30-year fixed rate will average at 6% in 2023. We could see some slight uptick in the first quarter as the Fed raises the federal funds rate in the first quarter, but mortgage rates are likely to go on a downward path after the first quarter.
A 6% mortgage rate is affordable for potential homeowners earning $100,000 (homeowners normally earn more than the median family income, at $69,717 in 2021) and who purchase a home valued at $400,000 with a 10% down payment. The monthly mortgage is $2,158, or 25% of income. Total housing expenses (mortgage, taxes, insurance, maintenance) are not considered burdensome if these account for no more than 30% of income.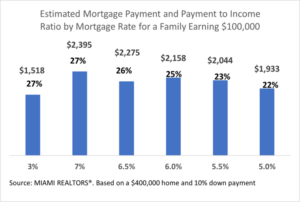 Mortgage Rates and Inflation Poised to Continue to Decline in 2023
Two good news came out this week on inflation and mortgage rates that indicate both inflation and mortgage rates are headed to decline further for the most part of 2023. In December, inflation slowed to 6.5% while the 30-year fixed rate mortgage declined again to 6.33% as of January 12.
The Fed looks at inflation data to decide on its interest rate hikes, so the cooling off of inflation in December boosts the likelihood that the Fed will not raise the federal funds rate any more than the 0.75% increase it has deemed appropriate as of its December meeting (the Fed meets again on January 31). A decline in interest rates is essential in revving up housing demand, construction, and investment deals.
Inflation declines to 6.5% in December due to lower gas prices, but rent growth ticks up
Inflation, measured by the consumer price index, rose at a slower annual rate of 6.5% in December 2021, mainly due to lower gasoline prices that fell 9.4% from the prior month. Airline fares also fell 3% from the prior month. Lower gasoline and air fares will help further boost travel, tourism, and retail spending, benefiting vacation destinations like Miami-Fort Lauderdale-West Palm Beach.
I expect that with inflation declining through 2023, inflation will average at 3.5% for 2023, which will put downward pressure on mortgage rates.
Gasoline prices expected to decline in 2023
Gasoline prices are expected to continue to decline in 2023 and 2024, barring a major spike in global oil prices. In its Short-term Energy Outlook, the Energy Information Administration is forecasting a decline in retail gasoline and diesel prices in 2023 ($3.23/gallon) and in 2024 ($3.09/gal) due to limited growth in global demand for gasoline combined with increased gasoline production and rising gasoline inventories in the United States.[1] The price of oil could get upward pressure from rising Chinese demand as the government eases COVID inbound travel restrictions to re-ignite growth, but not to a level that will push oil prices back up to the $100/barrel level.
Rent growth expected to slow in 2023
The major contributor to inflation was rent (or Shelter CPI component).  Nationally, rent on primary residence rose 7.5% from one year ago. However, asking rents, a leading indicator of future rent paid, have started cooling off, with vacancy rates nudging up. According to Realtor.com, the median rent growth across the top 50 metros slowed to 3.4% year-over-year for 0-2 bedroom properties in November, the lowest growth rate in 19 months.
In the Miami metro area, asking rents are also rising at a slower pace than actual rent paid. According to RentalBeast.com, the asking rent as of December rose to $2, 927 on a 2-bedroom apartment was up 13% from one year ago, a slower pace than the 17% rent increase for renters. Rents have been rising at more torrid pace in the Miami metro area than nationally in part due to stronger employment conditions. Non-farm payroll jobs were up 4.5% year-over-year in Miami metro area in November compared to 3% nationally as of December 2022.
[1] U.S. Energy Information Administration – EIA – Independent Statistics and Analysis