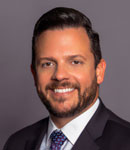 MIAMI — The nation's largest local Realtor association has elected Miami native Alberto Carrillo as its 2020 Residential President. He and the entire Board of Directors were installed Feb. 28 at MIAMI's 2020 Inaugural Celebration at the Seminole Hard Rock Hotel & Casino in Hollywood.
The Residential Board of MIAMI is dedicated to leadership in the industry, the real estate profession, and the communities it serves. They analyze information, are actively and visibly involved in events and programming, and promote Miami and South Florida worldwide. The association represents 52,000 residential, commercial, and international real estate professionals.
"The MIAMI Realtors Residential Board is comprised of a diverse, talented group of Realtors and we are excited to do our part to improve our real estate industry," Carrillo said.
Carrillo is vice president of RelatedISG International Realty, after serving as Sales Manager originally for the Downtown/South Beach Offices which were then relocated to the Edgewater Office. He has more than 13 years of Miami real estate experience.
In his time with RISG, Carrillo has overseen the transition of the agency's original, 700 square-foot office in Downtown Miami to their new, 2,200 square-foot flagship office in Edgewater. He also acts as the sales manager for the Edgewater location, cultivating the branch into the No. 1 office for the entire company. In 2018, Carillo was instrumental in the opening of the sixth RISG office location in Brickell.
In his new role as vice president, Carrillo will work side by side with Vidal to oversee the company's growth and development as well as the relaunch of the Fort Lauderdale office.
Carrillo came to RISG in 2014, after working for the Keyes Company for four years. While at Keyes, he focused on building relationships and creating development deals in the commercial sector, while still maintaining a year-over-year increase in residential sales.  Before that, the agent spent six years as sales manager for AquaSun Realty where he was actively involved in the business development and growth of the company.
Carrillo served as the 2017 chairman of the MIAMI Young Professionals Network Leadership Board.
Carrillo is active in numerous organizations including the MIAMI Association of Realtors (where he was a key factor in the MIAMI YPN network being awarded National Association of REALTORS "YPN of the Year") and the REALTORS® Political Action Committee (RPAC) for the National Association of Realtors. He also serves on the Board of Directors at both the state and national level for the MIAMI Association of Realtors.
Carrillo has a background in information technology and computer technology, and utilizes his knowledge to help young Realtors leverage new technology and social media to sell properties.
Announcing the 2020 MIAMI Residential Board
Joining Carrillo are: Residential President-Elect Daniel A. Guerra of Fortune International Realty; 2019 Residential President Ines Hegedus-Garcia, C2EX of Avanti Way Realty; Governor Eddie Blanco of Stratwell; Governor Maria E. Carrillo, CRSSFR, C2EX of The Keyes Company; Governor Scott Diffenderfer, CIPS, LCAM of COMPASS Florida; Governor Jorge H. Fernandez, C2EXof RelatedISG International Realty; Governor Justine Jimenez Garcia, CIPS, CDPE, MRP, C2EX of Countywide Properties ERA; Governor Carlos Gutierrez of COMPASS Florida; Governor Julio Guzman of Avanti Way Realty; Governor Angelique Hibbert, GRI, ABR, SRS, PSA of The Keyes Company; Governor Ed Martinez, C2EX of RE/MAX Unique Realty; Governor Nora Muci, CIPS, GRI, TRC of Muci Group Real Estate & Investment; Governor Neal Oates Jr., CRS, C2EX, SFR, AHWD of World Renowned Real Estate; Governor Martha Pomares, GRI, ABR, CIPS, CRS, C2EX of Douglas Elliman Real Estate; Governor Dianne Regaldo Kammerer, CAM, CRS, C2EX of Coldwell Banker Residential Real Estate; Governor Michelle Rojas, CRS, GRI, ABR, SRS, C2EX of Brown Harris Stevens; Governor Denise Sicuso of Berkshire Hathaway HomeServices EWM Realty; Governor Enrique Teran of Avanti Way Realty; Governor Albert Vasquez, ABR, SRS, CDPE of Keller Williams Realty Miami Lakes.
Deborah Boza-Valledor, CIPS, CRB, CRS, GRI, TRC, RSPS, AHWD serves as the COO & Chief Marketing Officer of the MIAMI Association of Realtors. Teresa King Kinney, CAE, CIPS, GRI, RCE, TRC serves as the CEO for the MIAMI Association of Realtors.
About the MIAMI Association of Realtors
The MIAMI Association of Realtors was chartered by the National Association of Realtors in 1920 and is celebrating 100 years of service to Realtors, the buying and selling public, and the communities in South Florida. Comprised of six organizations, the Residential Association, the Realtors Commercial Alliance, the Broward-MIAMI Association of Realtors, the Jupiter Tequesta Hobe Sound (JTHS-MIAMI) Council, the Young Professionals Network (YPN) Council and the award-winning International Council, it represents 52,000 total real estate professionals in all aspects of real estate sales, marketing, and brokerage. It is the largest local Realtor association in the U.S. and has official partnerships with 222 international organizations worldwide. MIAMI's official website is www.miamirealtors.com
###