MIAMI Commercial Membership
New MIAMI Commercial Membership Application: Click Here
MIAMI Commercial is one of the largest commercial REALTOR organizations in the country with over 3,400 active members. MIAMI Commercial was created in 1992 because we recognized that commercial practitioners need specific tools, products, education and resources. MIAMI Commercial members specialize in office, industrial, retail, multi-family, investment, hospitality and other commercial disciplines.
MIAMI Commercial provides services to increase the profitability of its members, including superior educational opportunities, legislative affairs and advocacy, the latest technology tools for the commercial real estate practitioner, and upholding the professional standards of the industry.
Member Benefits
MIAMI Commercial offers the Competitive Advantage for its members! The Competitive Advantage means that the programs, activities, products, and events are all designed to help you succeed in your business. The quality of the seminars are first-rate, and the events are the best in the industry.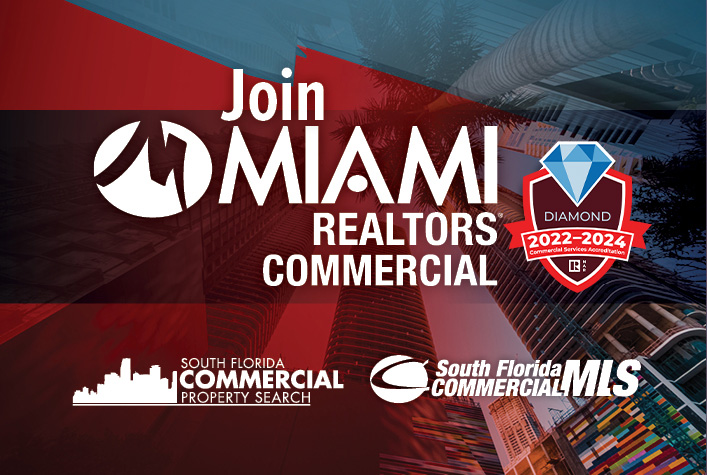 Information
Timely informational emails on the latest topics in commercial real estate.
The REALTOR Magazine published twice a year
Access to the MIAMI Commercial website containing a plethora of information on varying topics, events calendar, market reports, technology tools, education programs, certifications, designations, resources, links, government affairs, and more.
New MIAMI Commercial Membership Application: Click Here
Technology
Access to the powerful IMAPP system, which has plat maps, superior tax information for 33 counties in Florida, sales information, plot distances, lot sizes, integrated with the MLS, demographic information, the easiest labels, and saved searches! FREE IMAPP courses are held monthly at MIAMI!
Members have access to Terra-Fly, which was produced by NASA, IBM and FIU. Learn to FLY with Terra-Fly, which is also integrated into the MLS system. TerraFly also lets you access area demographic information with the touch of a button, and gives aerial photography and information for properties anywhere in the United States!
Member to Member Emails
As a member of MIAMI Commercial, members can send blast emails to the 3400+ commercial members with the click of a button. Information is limited to commercial real estate haves and wants, and is strictly enforced. Our broadcast email system allows you to attach photos into your email. This system is used regularly to make deals by members of MIAMI Commercial .
Networking
As a member you have the opportunity to attend and participate in a variety of programs and seminars that are geared towards increasing your business.
The Expert Series – Experts from the various disciplines in commercial real estate discussion market trends and information
Hot Topics – Topics of the day like Green Buildings, commercial property taxes, office condos are discussed by leading experts
FIU/ReBar Camp and FIU REACT – MIAMI Commercial hosts joint events with the Florida International University Real Estate Alumni Council?
Gadget Series – Learn the latest tech tips and tricks for devices such as the HP10BII calculator, the Treo, and the Blackberry devices.
Commercial Marketplace – Members meet on the first Thursday of the month to share information on properties, listings needs and wants.
Member Benefits
Members have the opportunity to participate on a host of work groups including technology, the tax work group, the Expert Series work group, and community development. The groups help plan strategies and form alliances in the industry.

Education
MIAMI Commercial has the best education programs for the commercial real estate professional. From co-hosting CCIM, RLI and SIOR courses, to the ongoing classroom education seminars, MIAMI Commercial continues to be on the cutting edge of the latest information in the industry. Members have access and reduced rates for MIAMI Commercial courses, which are held throughout the year.
Cost segregation
Tax advantages for commercial
Investing
Wealth building
Property management
1031 Exchanges
Negotiating
Essentials of Commercial Real Estate
Income property analysis
Commercial and Investment Redevelopment
Commercial Contracts
Commercial Leases
CCIM co-sponsored courses
SIOR co-sponsored courses
MIAMI Commercial has earned by attending any of the programs, seminars, courses and events put on by MIAMI Commercial. Earn points while participating in all the programs that RCA has to offer.
The Commercial Conference in November and Midyear Conference in May bring together the industry for a half day of programs, speakers, information and vendors that are vital to commercial real estate professionals. Make plans to attend these awesome events!
Legislative Activities
Whether it's commercial property taxes, commercial insurance, the Business Rent tax, sign regulations, impact fees, or community development, MIAMI Commercial is the voice of commercial real estate in South Florida. Our efforts, in Tallahassee have helped start a process toward meaningful Business Rent tax reform in the state of Florida.
Legal
Members do have access to the Legal Hotline, which can come in handy when facing a legal issue in conducting your business. This valuable service is provided by the Florida Association of Realtors.
MLS Help Desk
Members have access to a help desk by calling (305) 468-7067.
MIAMI Commercial  at 305-468-7017 or commercial@miamire.com for more information. 

New MIAMI Commercial Membership Application: Click Here