Amarki
Sales, Multi-Channel Marketing and Recruitment Tool
Complete your marketing efforts quickly, more frequently with minimal training using a single tool and a few clicks of your mouse
Reduce cost and increase activity managing your own marketing
Makes prospecting and property marketing easy
Create sales material that is within brand and meets compliance
Includes a growing list of customizable templates – access to anything you need to market YOU and YOUR PROPERTIES:
– Email
– Text Messaging
– Social Media Posts:  Facebook, Twitter, LinkedIn
– Web Ads:  Google (Display & Search)
– PDF Downloads
– Integrated Stock Images & GraphicsMIAMI Co-Brandable Flyers are available at no cost – easily co-brand MIAMI Marketing Flyers from your Amarki account and your profile, eliminating the need for Adobe Professional or a Graphic Designer – upload your company and team logo and co-branding is available at the touch of a submit button!
View ALL Amarki Features – CLICK HERE
Your FREE Amarki account includes:
Email                             10/month                  FREE
Text Messaging           10/month                    FREE
Social Media Posts     6/posts/month     FREE
Also includes:
1 GB Storage
100 Total Contacts
List Segmentation
Click and Drop Contacts
MIAMI Co-brandable Digital Downloads
Upload and Download Files
$0.00/month per agent
Reasons to Upgrade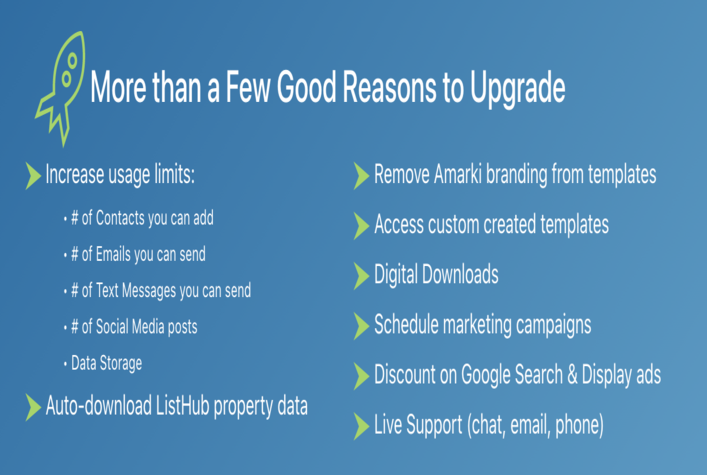 Click here for Amarki's Pricing Guide – MIAMI Members GET 50% OFF Premium Plan (Pay ONLY $9.95/month)
Use Coupon Code:  MIAMI10OFF
Go to the MIAMI Gateway
Log in with your MLS ID and password
Click the Amarki logo and you will be logged in automatically.
Create any digital marketing campaign in 3 easy steps:
 Select Your Marketing Method
-Email
-Text Messages
-Social Media Posts:  Facebook, Twitter, LinkedIn
-Google Display Ads
-Google Search Ads
 Choose a Template and Customize
-Pre-made or create and save your own
-Customize as needed
-Auto-fill property data and images from MLS or input manually
-Integrated stock images and graphics
Target and Deploy Campaign
-Send Emails or Text Messages to a specified contact list
-Geo-target Google Search & Display Ads to a specific city or radius from address
-Save design as a PDF to create printed flyers or attachments
-Schedule or send immediately
1…2…3…Done!
"We are able to recruit excellent agents and provide them with a tool that brings everything together." Andre Nell | Owner, Halo Group
"Amarki's marketing tool has been a great value add for our boutique brokerage.  Being able to white label the tool and templates to our branding gives us the look and feel of what our larger competitors offer yet at a fee we can afford.  Having all these tools at our fingertips helps our agents create consistent branding and polish the look of our business."  Nickolas Yale | Brokers Hub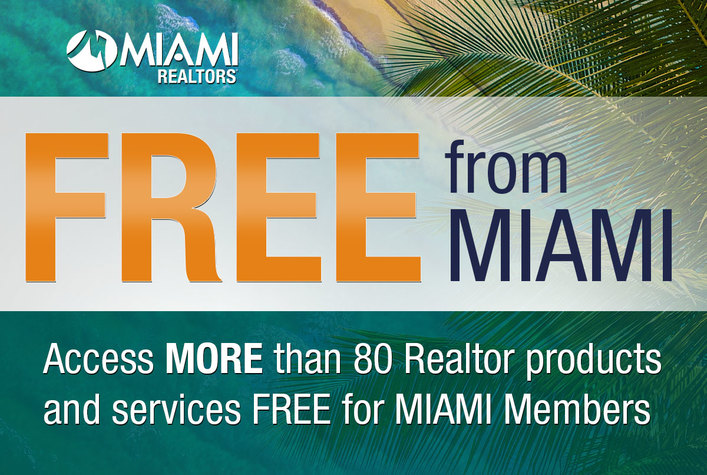 CLICK HERE to access the full list of products and services that are FREE for MIAMI Members.