Zoom: BROKERS: Sitzer/Burnett – Antitrust Class Action Debrief
November 9 @ 3:30 pm

-

5:00 pm

Free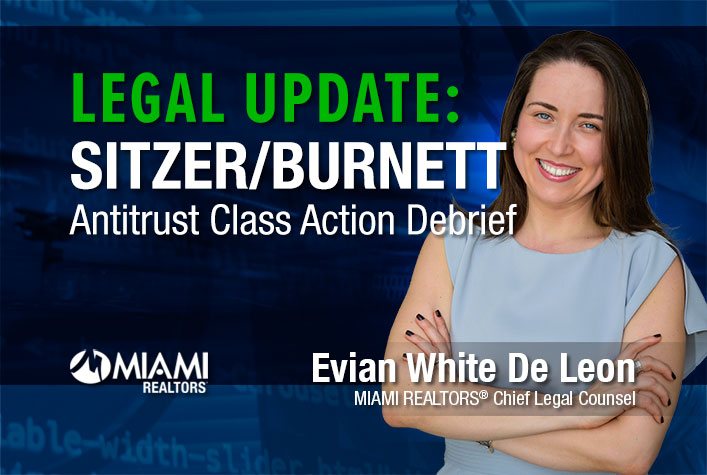 Instructor: $Evian White De Leon
$$
Exclusive to our MIAMI Brokers & Office Managers, you are invited to a ZOOM webinar.
On October 31, 2023, in the Sitzer/Burnett class action case, the jury awarded the plaintiffs $1.785 billion in damages (which could be $5.356 billion after treble damages are assessed).
MIAMI REALTORS®' Chief Legal Counsel, Evian White De Leon. Join MIAMI REALTORS® Chief Legal Counsel, Evian White De Leon, for a debrief on the jury verdict in the Sitzer/Burnett antitrust class action,
best practices for your business, and to learn about the upcoming educational opportunities at the Association on Buyer Representation. THE WEBINAR WILL NOT BE RECORDED.
ISSUES TO DISCUSS:
(1) Status of the Sitzer/Burnett case. We will discuss what this means and what happens next in the legal proceedings.
(2) Best practices for your business that you can implement now. Of course, with the reminder that all business decisions must always be made independently and unilaterally.
(3) Education. Sign up for classes now to get your ABR designation and for the Florida Realtors' class on buyer-broker agreements and how to implement them. MIAMI's legal update — which includes a list of all those classes —is here.