Luxury LiveStream: Certified Luxury Home Marketing Specialist Designation (CLHMS) – Online Course
December 10, 2020 @ 11:00 am

-

December 11, 2020 @ 5:00 pm

Free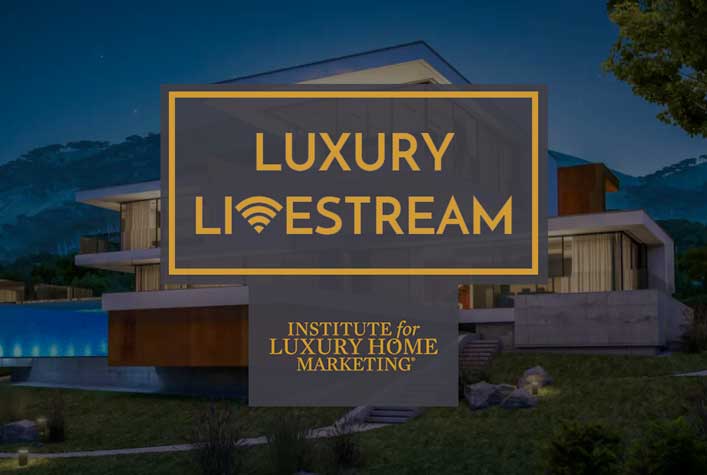 Instructor: Tami Simms
Join us on December 10 and 11 for two days of immersive luxury real estate training where you'll gain invaluable insight to help you win higher-priced listings, position yourself as a luxury expert, market luxury homes, find prospective buyers for your properties, and much more.
This session is being offered at the discounted price of $450 ($100 savings) Course is regularly priced at $550
What You'll Learn:
How to get high-end residential listings so you can earn more commission income
What latest trends influence the buying and selling behaviors of the affluent so you can customize your marketing and sales approach
How to position yourself as an expert at marketing high-end real estate so you can get more comfortable with working with affluent clientele
How to execute a transparent transaction so that you can avoid "deal killers" in luxury real estate
How to use The Institute's Luxury Market Report data to attract and provide value to buyers and sellers of upper-tier real estate
and much, much more!
What's Included in your Admission:
2-days of training taught by one of our expert trainers
Certificate of completion and membership pin
Luxury Live Workbook filled with invaluable tips, lessons and examples
1 Year Membership to The Institute
Your Institute Membership includes:
Access to free training webinars and free state specific CE to stay up to date with your compliance requirements
Access to daily automated social posts and customized Landing Pages with ACESocial, so you can consistently post content and capture leads
Access to the Institute's private Facebook Group so you can connect, engage and discuss luxury real estate referral opportunities with other Institute members
Earn the Certified Luxury Home Marketing Specialist Designation
Not all agents are created equal.  After you complete the Luxury Livestream Training, you'll be eligible to earn one of the highest designations in real estate, a Certified Luxury Home Marketing Specialist.  This unique designation acts as a mark of assurance for buyers and sellers that you have what it takes to sell in the luxury market.
Once you complete the Luxury LiveStream course, you can apply for this designation at no additional fee.  To earn the designation, you must show you've had the three transactions in the top 10% of your local market.
Why is this the ONLY TRAINING you'll need to finally break into the Affluent Market?
Attract Affluent Leads – Increase your earning potential by raising your average home sales price
Market Luxury Properties – Master the marketing principles for selling high-end homes
Expand Your Network – Meet others from North America and work with top-rated agents and professionals
Gain Better Negotiation Skills – Learn industry-proven tactics for closing deals at a higher price point
Brand Yourself as an Expert – Position yourself as a luxury expert and showcase your credentials
Grow Your Referral Business – Learn easy ways to get referrals and have others seeking you out for business
Ready to Elevate Your Career and Become a Luxury Agent?
BOOK YOUR SEAT TODAY FOR LUXURY LIVESTREAM!
Related Events