(H) In-Person: Understanding Zoning Principles, Terminology and Techniques
May 3, 2022 @ 9:00 am

-

12:00 pm

$35.00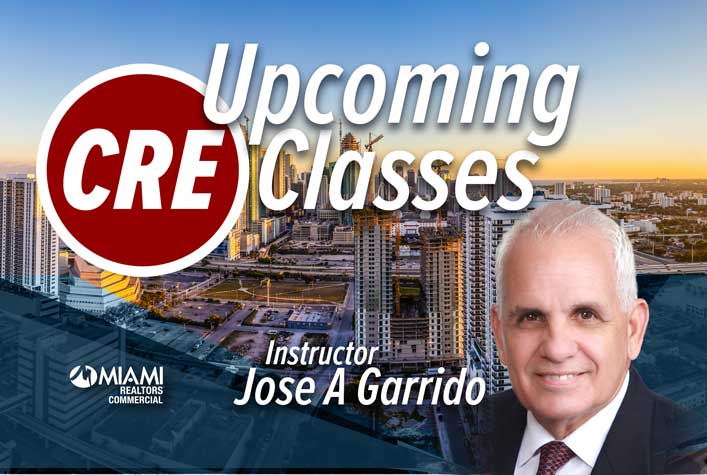 Instructor: Jose Garrido
In-Person: Understanding Zoning Principles, Terminology and Techniques:
May 3rd, from 9:00am to 12:00pm
This three-hour interactive course introduces the basic principles, terminologies, techniques of zoning and land use regulation in the City of Miami Dade County and other municipalities, with an emphasis on "How it Works in The CRE Real Estate Industry". Attention is given to Commercial Real Estate and Development, variety of zoning and land use regulations, zoning terms, zoning density, from the comprehensive plan in simple views to advanced techniques including sustainable zoning practices. A must for all CRE Agents.
With real life experiences explained by the Jose A. Garrido, the lecture program presents an introduction to the subject in theory and practice. Many topics will be discussed with examples, including the comprehensive plan, what is and how to read Boundary Survey, the many items that explain a site's condition, what are subdivisions, basic zoning principles and practice (history and general practice). PUD planning, sustainable zoning and development codes, and how to find Zoning information in the government sites, where and why.
Zoning/The basics introduction.

The what and why/ Zoning district designations defined.

The code maps, regulations and types in State, County, and Municipalities.

How it all works in CRE Real Estate

The team players in the development process.

Type of Assets and Zoning / Commercial Office / CBD Retail / Condos / Mixed Use / Business Opportunities

Zoning Code Numbers and Regulations including City of Miami / Miami21 / Miami Dade County Chapter 33

Evaluating Commercial Property, vacant and existing. Topics include Building Density and Learning How to Calculate Density.

Looking at Vacant Land. How it all comes together in the development process.

Zoning legal permissibility of vacant lands.
Case Studies and the Zoning Hearing Process
The Special Urban Districts Defined in Miami Dade County
How to Read a Survey / Platting Process
What is it, What it Contains?

The Zoning Process.

Variances, district boundary changes defined.

CDMP amendment cycle, its role.

Miami Dade Agricultural Land and Interim District Defined
Several other topics will be addressed by the instructor.
This class has 5 MIAMI Commercial Diploma Points
Members $35 / Non-Members $50
700 South Royal Poinciana Blvd
This class is only In-Person
Related Events