ZOOM: SCAM ALERT: How to Identify, Avoid and Deal with Scams in the Real Estate Industry
July 28 @ 2:00 pm

-

3:30 pm

Free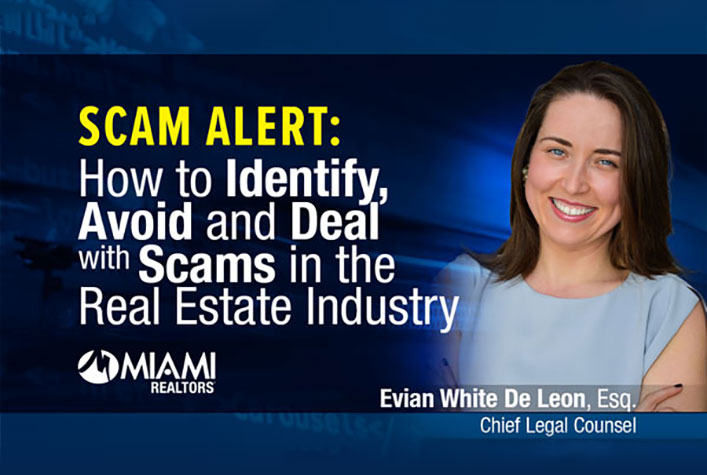 Instructor: Evian White De Leon
ZOOM: SCAM ALERT: How to Identify, Avoid and Deal with Scams in the Real Estate Industry
Friday, July 28th from 2pm to 3:30pm
Join MIAMI REALTORS Chief Legal Counsel, Evian White De Leon.  We will discuss the most common types of scams we are seeing in the real estate industry right now, how to protect yourself, best practices for working with buyers and sellers, and what to do if you have fallen victim to a scam.  If you have any questions you would like to address during the webinar, please email Evian White De Leon in advance.
Registration via the ZOOM link is REQUIRED to reserve your place and join the training session.  Computer/Laptop/Tablet with internet access and audio is REQUIRED.
After registering for the meeting, you will receive a confirmation, click on the ZOOM link provided.  Follow the instructions containing ZOOM meeting instructions; CLICK "ADD TO CALENDAR" to reserve the time in your personal calendar and save the join instructions.
Saving the reservation to your calendar will provide an automated reminder about the session as well as the instructions to Join the session when the time comes.
When it's time to join the meeting, simply follow the prompts in your ZOOM calendar reservation.  From your Computer/Tablet/Laptop, click the URL/link to join the event. Make sure your volume is turned up so you can hear the instructors when they start the session.