In-Person (WB): To Disclose or Not?
May 5 @ 12:30 pm

-

2:30 pm

$15.00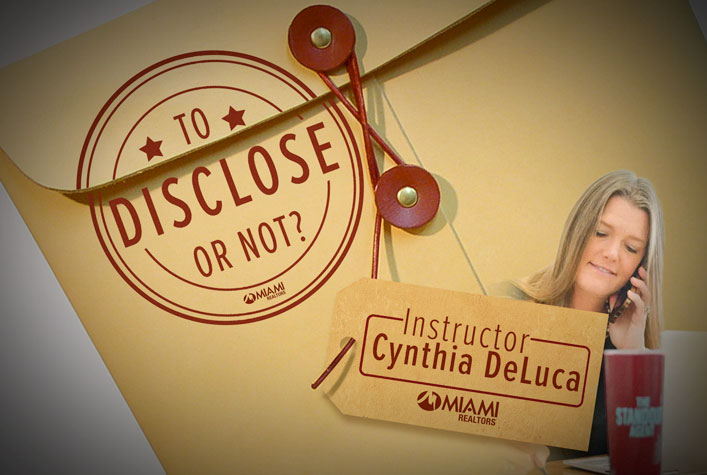 Instructor: Cynthia DeLuca
In-Person (WB): To Disclose or Not?
May 5th – Registration: 12pm
Program: 12:30pm to 2:30pm
Today, more and more lawsuits are being filed every day. With additional liability and risk, comes more and more disclosures.
Disclosures are basically notices, like wet floor signs, when you enter a store. It doesn't mean you have to do anything different, it's just to give you a notice and put you on alert. You can still enter the store just be careful because you've been warned the floor is wet. Maybe that means it's slippery, maybe it means it's already dry and no further action is taken. Just on notice.
In real estate, it seems we have disclosures for just about everything possible, with more disclosures being created often. In this course, we will go over the most common disclosures, reasons why they exist, and the proper way to utilize them to protect both our customers and ourselves.
Interpret the specific details of Johnson v. Davis and how it affects sellers of residential properties

Describe the importance of written sellers' disclosures

Understand how the disclosure requirements affect licensees.

Understand how to handle a seller that has repaired items and unsure of how and if they should disclose.

Recognize environmental hazards that may require disclosures.

Understand which items are not required to be disclosed according to Florida Law.
Instructor: Cynthia DeLuca
Members: $15 | Non-members: $30
Location: West Broward (Sawgrass) Office
Related Events