ZOOM: Leveraging Market Stats to Boost Your Business Series
December 20 @ 2:00 pm

-

3:00 pm

Free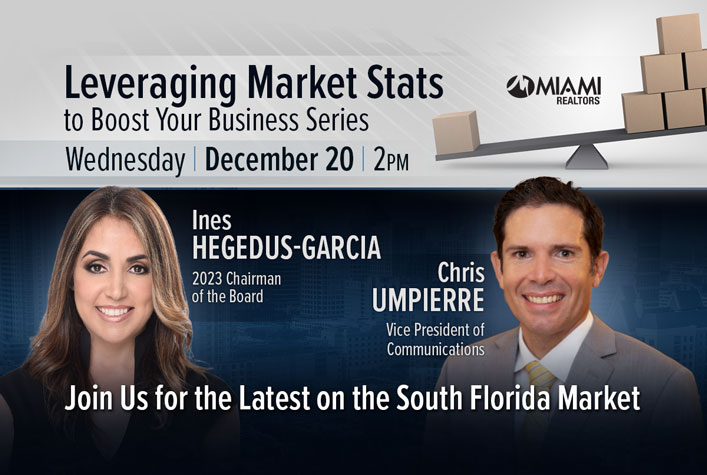 Join us for the latest market statistics and information.
Featuring Current Trends and Outlook:
> What's the latest on rising mortgage rates and how are they impacting the market?

> What's the latest on the intense demand and lack of supply?

> What's happening in the luxury sector?

> What factors are fueling demand and how will they affect future market activity?

> How does market performance vary by price point, area, and other factors?
Chris Umpierre, Vice-President, Communications, MIAMI Association of REALTORS®
2023 MIAMI Chairman Ines Hegedus-Garcia
Registration via the ZOOM link is REQUIRED to reserve your place and join the training session. Computer/Laptop/Tablet with internet access and audio is REQUIRED.
After registering for the meeting, you will receive a confirmation, click on the zoom link provided. Follow the instructions containing the Zoom meeting instructions; CLICK "ADD TO CALENDAR" to reserve the time in your personal calendar and save the join instructions.
Saving the reservation to your calendar will provide an automated reminder about the session as well as the instructions to Join the session with the time comes.
When it's time to join the meeting, simply follow the prompts in your ZOOM calendar reservation. From your Computer/Laptop/Tablet, click the URL/link to join the event. Make sure your volume is turned up so you can hear the instructors when they start the session.
Related Events