In-Person: (WB) The Landlord Tenant Bootcamp – 3 CE
March 15 @ 1:00 pm

-

4:00 pm

$15.00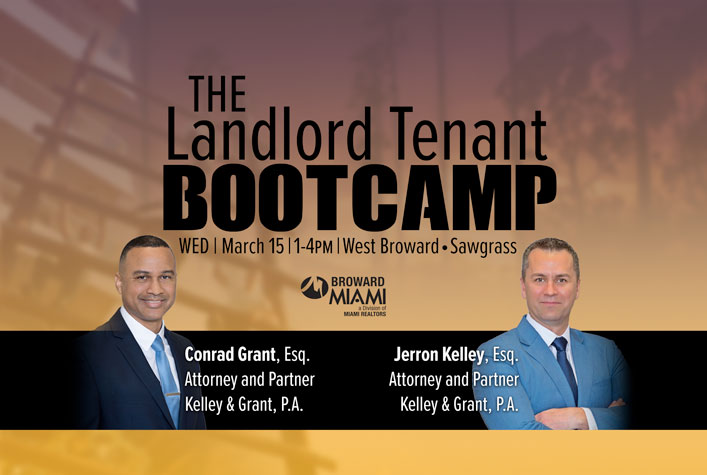 Instructor: Conrad Grant & Jerron Kelley
This course is approved for 3 HRS of Continuing Education. Florida rules require that we monitor attendance and we can not issue credit for less than the number of approved hours. In order to receive credit for your course, please arrive on time and stay for the entire class. Sign-in and Sign-out is required for this class to receive full credit.


The Landlord-Tenant Bootcamp
Property management is a highly lucrative business, however it is full of potential pitfalls if you are not cautious. This three hour Landlord Tenant Boot Camp is approved for 3 Continuing Education credits for real estate licensees. The class is designed for both new and seasoned realtors as well as residential property managers to provide training and help advance your real estate career.
The Landlord-Tenant legal seminar will provide you with the tools needed to effectively navigate the most common legal risks that landlords and property managers face when leasing to and evicting tenants. Landlord-Tenant attorneys, Jerron Kelley and J. Conrad Grant, will draw on their experiences in handling thousands of evictions and landlord/tenant cases to cover important changes to Florida law that landlords need to be aware of, methods to improve your property's bottom line, compliance with Federal Fair Housing Law, and a variety of other educational topics.
Topics Include:
Improving Your Property's Bottom Line & Occupancy Rates
• Effective Lease Provisions
• Advantages of Settlement Stipulations During Eviction
Effectively Handling Problems Throughout the Tenancy
• Non-Payment of Rent
• When To Accept Rent And When Not To
• Lease Violations
• Terminating the Tenancy
• Tenants in the Military
• Death of a Tenant
Avoiding Issues During and After the Eviction Process
• Benefits of Writs of Possession
• Dealing With a Tenant Bankruptcy
• Avoiding Security Deposit Disputes
Fair Housing Rules – Staying Compliant
• Seven Protected Classes and Who That Includes
• Specific Prohibitions of What a Landlord Can Do
• Reasonable Accommodations And What The Standards Are
• Service Animals vs. Pets
• Who Can Sue You Under The FHA
• Best Practices That Landlords/Managers Should Follow
Come prepared to not be bored as this session will be filled with topical material and advice!
Registration via the ZOOM link is REQUIRED to reserve your place and join the training session. Computer/Laptop/Tablet with internet access and audio is REQUIRED.
After registering for the meeting, you will receive a confirmation, click on the zoom link provided. Follow the instructions containing the Zoom meeting instructions; CLICK "ADD TO CALENDAR" to reserve the time in your personal calendar and save the join instructions.
Saving the reservation to your calendar will provide an automated reminder about the session as well as the instructions to Join the session with the time comes.
When it's time to join the meeting, simply follow the prompts in your ZOOM calendar reservation. From your Computer/Laptop/Tablet, click the URL/link to join the event. Make sure your volume is turned up so you can hear the instructors when they start the session.
Related Events