(J) Chef for the Evening at Quantum House
October 24 @ 3:00 pm

-

7:00 pm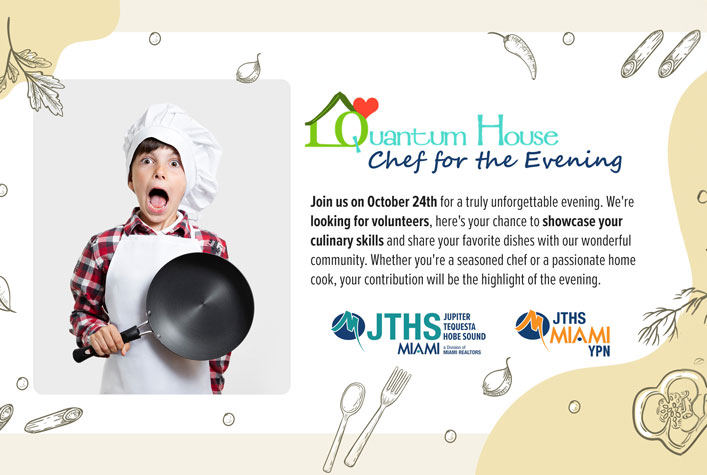 Become a Chef for the Evening for Quantum House.
Meal times are a really big deal, as they have 30 families to feed daily.
JTHS-MIAMI YPN will be providing dinner for Quantum House on October 24th.
If you would like to volunteer please click on the
link
to choose what you would like to bring.
You will be responsible for bringing the dish to the JTHS-MIAMI Office (2151 Alt A1A S. Ste. 1100m Jupiter) before 3 pm or meet us at Quantum House (987 45th Street, West Palm Beach) at 4 pm to help set up and take a tour of the facility. Note – we cannot return your dish or utensils.
Quantum House Mission: Quantum House is a caring and supportive home that lessens the burden for families whose children are receiving treatment in Palm Beach County for a serious medical condition.
Quantum House relieves the stress and financial hardship that are often added to the trauma of illness or injury. Guests staying at the House are asked to pay a nominal fee to help with operating costs, but no one is turned away because of inability to pay. As the only facility of its kind between Orlando and Ft. Lauderdale, Quantum House serves families from around the world. The House is open to all families regardless of race, ethnicity, creed, religion, or socioeconomic background.