Part 2 of Monthly Webinar: Commercial Real Estate Finance Series
October 20 @ 12:00 pm

-

1:30 pm

$15.00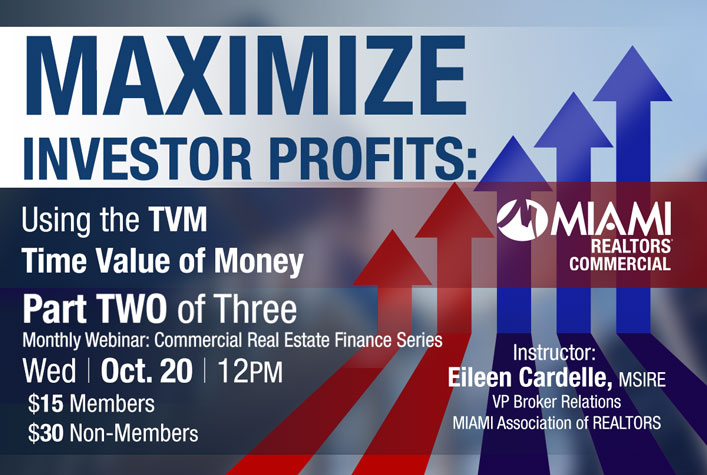 Instructor: Eileen Cardelle
Part 2 of Monthly Webinar:  Commercial Real Estate Finance Series
Wednesday, October 20th from 12:00 pm to 1:30 pm
Investment Seminar, Maximize Investor Profits Using the Time Value of Money, TVM
This series will teach you to confidently use and communicate the Time Value of Money and simplify income property financial performance metrics to help you maximize the profits of the real estate investors you work with and to close more transactions.
Analyze income properties based on size, timing, and risk of anticipated cash flows.

Demystify the use of complex key financial performance metrics used by experienced investors.

Create and communicate a win/win approach between sellers and buyers for commercial investments.

See investments thru the eyes of a lender for more competitive financing opportunities.

Delve into metrics such as Potential Gross Income (PGI).  Effective Gross Revenue/Income (EGR/EGI), Cash Flow Before Taxes (CFBT), Cash on Cash, Current/Going in and Sale Cap Rates, Internal Rate of Return (IRR), Debt Service Coverage Ratio (DSCR), etc.

Run scenarios with various renovations, financing and holding periods

Analyze expenses as a percentage of the EGI to understand if renovation costs lower your expenses

View a case study using RPR's analytical investment product VALUATE included FREE in your MIAMI membership
This class has 3 MIAMI Commercial Diploma Points
$15 for Members / $30 for Non-members
Education Credits can be applied towards this class
If you are not already a commercial member, add Commercial to your MIAMI Membership for under $100 a year, take advantage of more MIAMI exclusives.  Contact Paul Cauchi, Chief of Commercial at Paul@Miamire.com and visit our Website for Commercial.
Related Events